본문
MgO Thinkness Measurement for PDP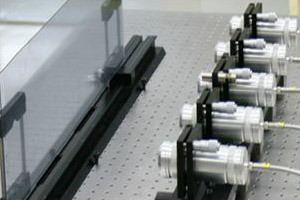 This Spectroscopic Reflectometer is optimized for the in-line monitoring of MgO films which are used as the protection layer of PDP cell. Ellipso Technology has the unique and advanced technology of m-FFT software combined with pseudo substrate analysis technique for the accuracy and fast measurement of MgO film thickness on top of the thick dielectrics and patterned substrates. This instrument is equipped with multiple probes so that it is best suited to monitor film thickness of large-size samples with dielectrics and/or patterns.
◈ PERFORMANCE
     1.Wavelength range : 250 ~ 950 nm(with UV) 
     2.Thickness range : 0.4 ~ 50 um
     3.Thickness precision : ~ 1 nm
     4.Reproducibility : ±0.25 %
     5.Throughput : 1 ~ 2 sec. per a set of probes
     6.Spot size : 1 ~ 10 mm
     7.No. of probes : 1 - 8 (Depends on glass size)
◈ APPLICATION
MgO film on patterned or non-patterned glass of PDP panel.

◈ OPTION
UV, Adaptive Probe Configuration, Interactive & Real Time Data Processing etc.