본문
​
◈TSP INSPECTION MICROSCOPE SYSTEM
Elli-Muv's key priority is the needs of each individual customer.

Naturally, we aim to ensure that our inspection microscopes deliver maximum benefit from the time of selection right through to after-sales support. And with our long experience of the industry, we already provide many clear-cut solutions to making display device inspections easier, quicker and more efficient.
At the same time, we know that each customer is unique, and has to address a unique set of issues successfully.
​
     1.Speedy detection of any flaw ensures faster, more productive throughput.
     2.Wide range of FOV and high image sensitivity support user friendly, and reliable analysis.
     3.The Elli-Muv is the specialized inspection system for ITO  pattern on TSP with high accuracy.
     4.More efficient inspections throughout industry.
◈TSP_ITO Pattern Images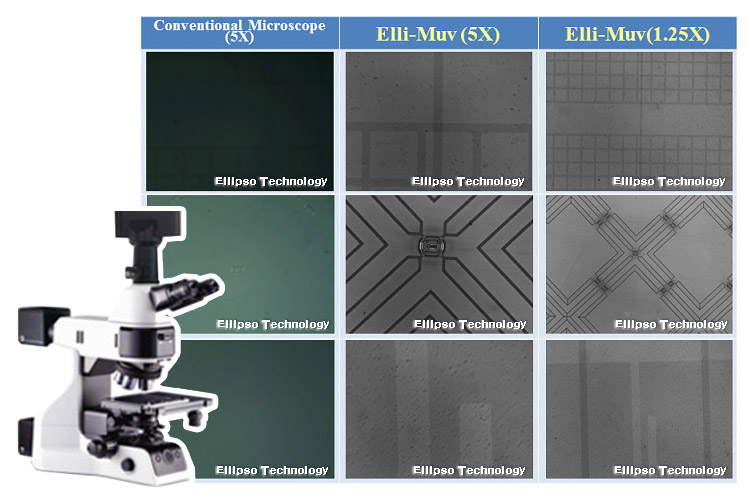 ◈TSP_ITO Pattern Images (OCTA)
ITO Patterns in Assembled OCTA are Vividly Visualized
​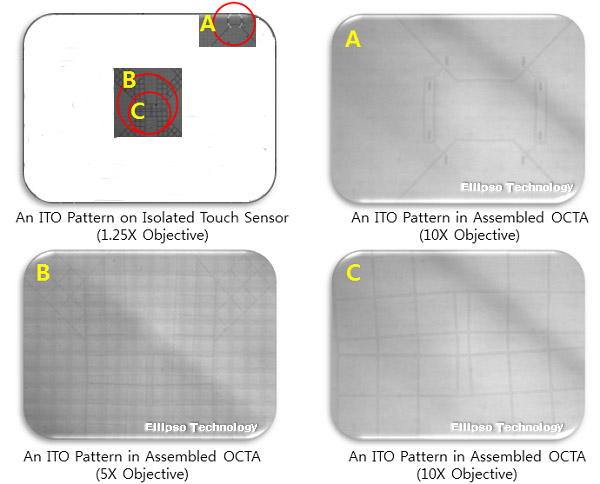 ◈FEATURE

 Enhanced Image Contrast
   - Adaptive Optics for ITO Patterns of TSP
   -Optimized Optical Parts and Configuration for ITO Coated on Glass/PET
   - Digital Enhancement of Image Contrast Enabled
 Easy to Operate and User Friendly Inspection
   - 5X Times Increased CC due to Enhanced Image Contrast
   - Wide Range of Macro/Micro FOV Selectable
   - Well Balanced FOV and Spatial Resolution
   - Post Digital Processing of Image Enabled
​
◈SPECIFICATION
Field of View
      - 12.7 mm ~ 1.27 mm (Diagonal)
Resolution(Lateral)
      - 12.7 um ~ 1.27 um (Optics, Object), 0.51 mm ~ 0.05 mm (Video)
Contrast Coefficient (%)
      - 3.2 ~ 12.9 (ITO on PET ~ ITO on Glass, 5X over Conventional Microscope)
      - Digital Enhancement : ~10X Times
◈APPLICATION
TSP(ITO Pattern), Semiconductor, FPD, Biology, Chemistry, etc.